Ben Shadday - 2018 ODSS 2018 Points Champion
This article was originally published April 25, 2018 by Mike McGlothlin
EXTREME DIESEL: 2,000HP IN A 3,500-POUND RAM
Few other diesel drag racing classes get our blood pumping quite like the Pro Mod field does. It's a category that's made up of a wide array of lightweight vehicles (trucks, cars and altereds) duking it out in heads-up races, with some capable of storming the eighth-mile in under five seconds. Familiar faces in the Pro Mod class are the 4-second '08 F-250 from Rudy's Performance Parts and Ryan Milliken's head-turning, Cummins-powered '66 Nova. While the truck shown here isn't exactly new to the drag racing scene (it previously spent time running Pro Street), the regular cab '06 Ram campaigned by Ben Shadday of Done Right Diesel Performance is packing a nasty new powertrain for the 2018 racing season.
With a competition-ready, 6.8L Cummins between the frame rails, enough fuel to support more than 2,000hp, a massive 102mm turbo and a trick, direct-port nitrous system, Shadday's engine combination will give him a shot at running at the top of the heap this year. Even though 1,600 to 1,700rwhp is all that's thought to be needed to get his Ram out front, thanks to the abundance of fuel and air on tap, Shadday's Cummins will have plenty of power in reserve just in case it's needed. Trust us, if this thing can hook, it'll book!
Join us for a quick walk around Shadday's fiberglass bodied, Pro Mod Ram as we highlight the parts and pieces that might just make it the truck to beat in 2018.
Freedom Racing Engines 6.8L Cummins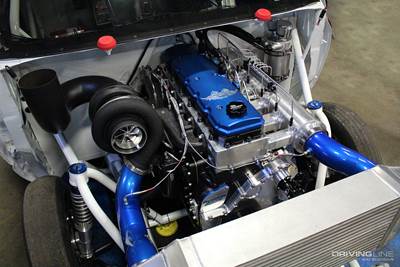 At the heart of Shadday's Ram lies a dyno-proven version of the 6.7L Cummins. Assembled by Freedom Racing Engines, the engine building arm of Fleece Performance Engineering, the hummin' half dozen makes use of a Hamilton Cams solid block that was machined for 14mm head and main studs, D&J Precision Machine rods, Diamond Racing pistons, a Wagler Competition Products billet-aluminum cylinder head and a billet-aluminum individual runner intake manifold. Before it was dropped in the truck, the race-ready Cummins produced 2,024hp at 4,600 rpm on Freedom's engine dyno.
Dual CP3s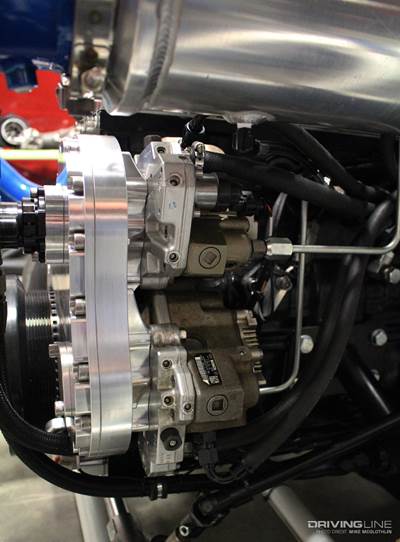 "As long as this thing can hook, it will book!"
A D&J Precision Machine billet front cover accommodates twin Bosch CP3 high-pressure pumps and allows both units to be gear-driven (rather than the factory location pump being gear-driven and the other belt-driven). On top of that, these aren't your average CP3s. Rather, they're 12mm stroker pumps from S&S Diesel Motorsport—each one capable of supporting at least 1,000hp on its own. The S&S pumps feed a set of proprietary (code word for "massive") injectors from Dynomite Diesel Products.
Gear Driven, DSR Fuel Pump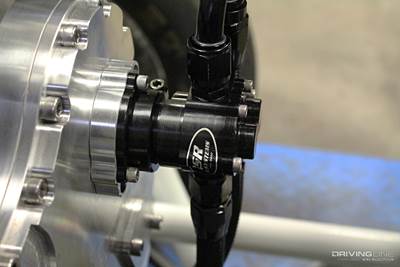 A provision on the front side of the D&J Precision Machine front cover allows for a gear-driven fuel pump from Daryl Saucier Racing (DSR) to be run. Frequently found in the upper echelon of truck pulling, these babies move a lot of fuel. This particular pump flows six gallons per minute, and thanks to a Fleece Performance Engineering Cummins regulated return fuel distribution block, a consistent 15 psi is supplied to the CP3s at idle—and 25 psi at full tilt.
The Windmill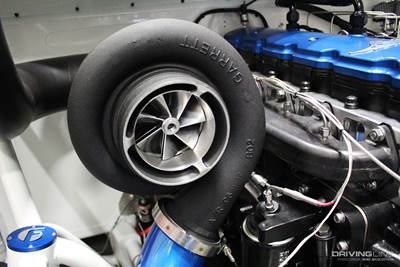 "Before it was dropped into the truck, the race-ready Cummins produced 2,024hp at 4,600 rpm on Freedom's engine dyno."
Forced Inductions turbochargers are all the rage these days, especially in the diesel segment. Keeping things simple and also knowing that the engine would live much of its life above 4,500 rpm, Shadday settled on a GT55-based Garret unit with a massive, 102mm compressor wheel (that's a 4-inch inlet!). The big single charger mounts to a T6 flange competition-style Steed Speed exhaust manifold and pushes 70 psi of boost through an air-to-air intercooler fabricated by Fleece Performance Engineering's Tony Derhammer.
One Jet Per Cylinder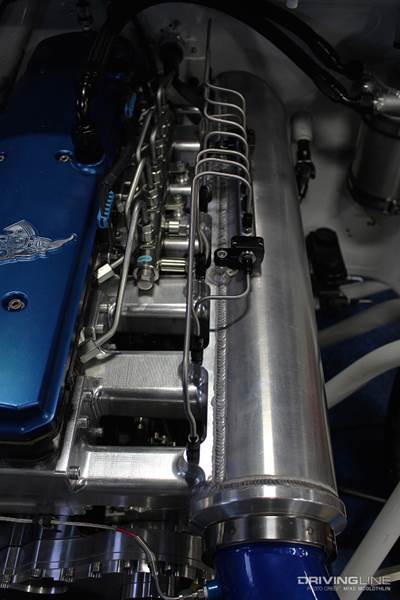 Designed and built by the aforementioned Derhammer (a.k.a. Hammer-Tech), a custom nitrous rail and individual lines feed N2O to each cylinder (there is also a small jet in the intercooler to help get the turbo spooled). The innovative nitrous system has the potential to add several hundred horsepower to the equation if Shadday needs it.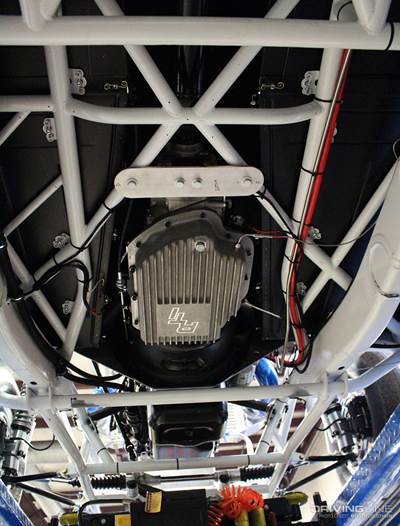 "Shadday settled on a GT55-based Garret unit with a massive, 102mm compressor wheel."
Like a lot of drag racers running two-wheel drive trucks these days, Shadday relies on the proven TH-400 design to harness the power he's making. His Rossler Transmissions-built Turbo 400 sports 300M shafts and is topped off with a 12-inch lockup torque converter from Neal Chance Racing Converters. Shifts are handled by way of a Precision Performance Products air shifter and they occur at an insane (for a diesel) 5,200 rpm. Once on the trans brake, the aforementioned nitrous spool jet is activated and Shadday is able to build 25 psi of boost before the launch.
Back-Halved & Four-Linked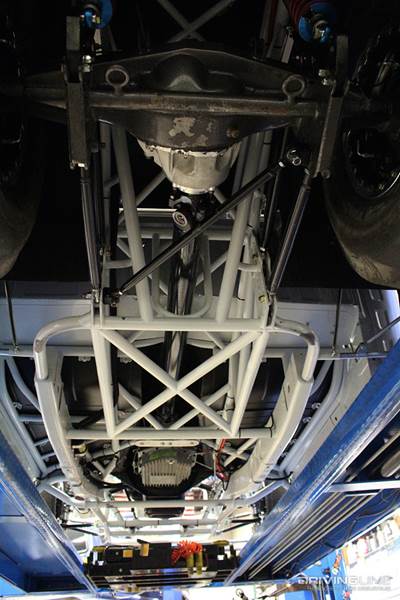 As you might've expected, the truck has been back-halved, but the hind end has also been fitted with a four-link suspension, adjustable AFCO coilovers built by Menscer Motorsports, a Ford 9-inch and received some love from Greg Risk Racecraft. Over the winter, Fleece Performance Engineering reworked the front suspension, adding a set of Chris Alston's Chassisworks' VariShock coilovers and bringing the truck's cage up to the new 25.3 SFI spec.
Stopping Power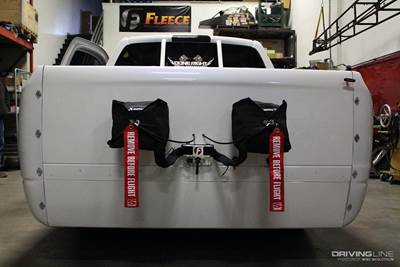 Two parachutes from Impact Racing Products are tasked with slowing the truck down after each charge down the track. Based on the eighth-mile test passes the truck has made so far this year, the chutes will have to slow the 3,520-pound (with driver) Ram from at least 165 mph if Shadday decides to put the truck through the quarter-mile (although we think that number will likely be more than 180 mph when all is said and done).
Clean Diesel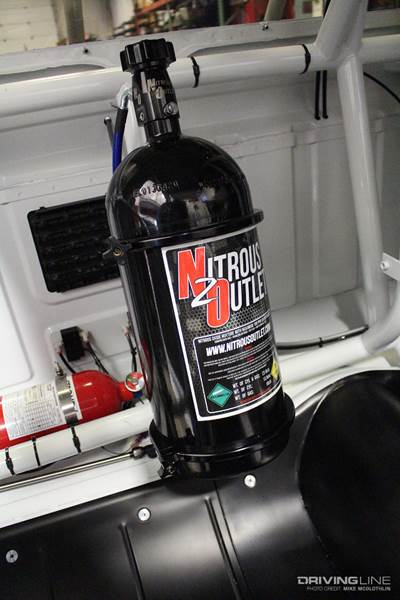 Along with the obvious goal of getting down track as quickly and as fast as he can, Shadday is determined to meet another target: He wants the truck to be as close to smoke-free as possible. Thanks to Shadday's extensive knowledge of tuning a Cummins' ECM, the truck runs very clean as-is. However, with nitrous being the chemical equivalent of adding another turbo, it will always be an option to clean up any leftover fuel—along with providing a considerable bump in horsepower and helping to control in-cylinder heat.
Big Things To Come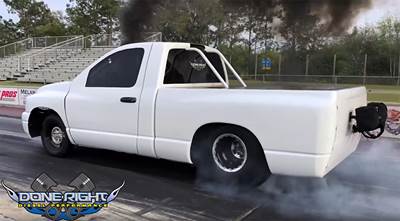 Right off the trailer, Shadday's Ram went 5.16 at 131 mph in the eighth without locking the converter (which sapped about 300hp). Not a bad starting point for a highly conservative tune and virtually zero nitrous. As the season progresses, and provided the chassis cooperates like he expects it to, we're sure the truck will be living in the 4's, maybe even mid-4's.